If you want lear more information, warmly welcome to contact me
Shirley Pan
Email:shirley@chinahardalloy.com
Mobile: +8617773379950(wechat/whatsapp)
Wearable Solid Carbide Rods , 10% Coblat Carbide Round Bar HRA92.5 - 93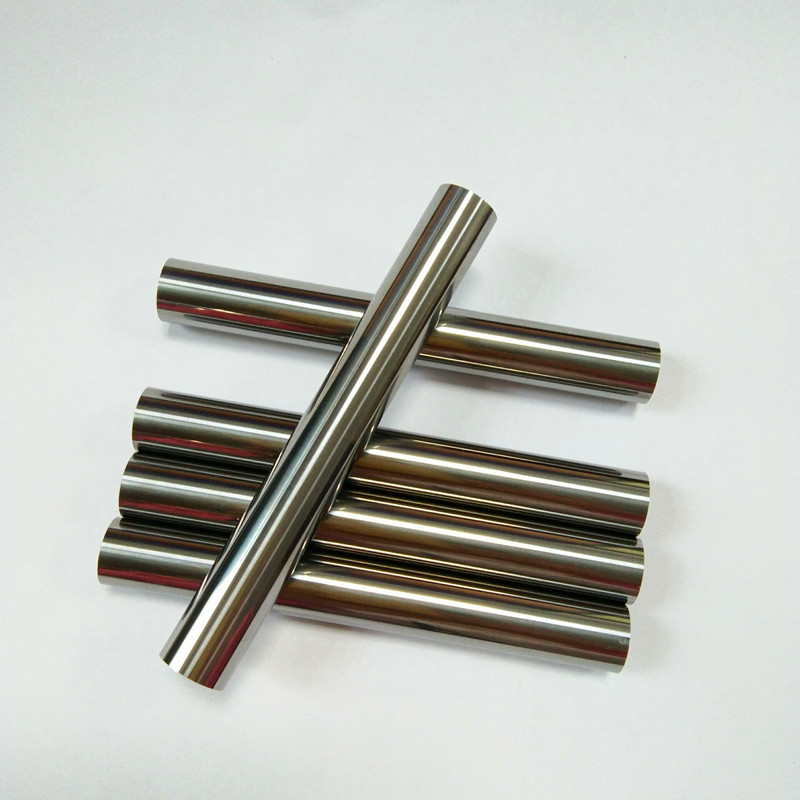 Various grade of carbide rod for your choice
| | | | | | | | |
| --- | --- | --- | --- | --- | --- | --- | --- |
| Grade | YL10.2 | YG6 | ZF10 | YG6X | YG10X | YG8 | YG15 |
| ISO Range | K25-K35 | K20 | | K10 | K35 | K30 | K40-K50 |
| WC+others % | 90 | 94 | 90 | 94 | 90 | 92 | 85 |
| Co % | 10 | 6 | 10 | 6 | 10 | 8 | 15 |
| Grain Size μm | 0.6 | 0.8 | 0.4 | 0.6 | 0.6 | 0.8 | 0.8 |
| Density g/cm3 | 14.5 | 14.9 | 14.8 | 14.9 | 14.5 | 14.6 | 14.1 |
| Hardness HRA | 92.5-92.8 | 89.5 | 92.5-93 | 92 | 90 | 89 | 86.5 |
| T.R.S N/mm2 | 3800-4000 | 2150 | 3800 | 2000 | 2200 | 2200 | 2400 |
| | |
| --- | --- |
| Grade | Application |
| YL10.2 | ultra-fine grain WC+ 10% Coblat, with good Wear resistance and Toughness, strength comparatively higher,suitable for PCB micro drills,for making drills,end mill,reamer,taps,burrs etc. |
| YG6 | Fine Grain WC+6% Cobalt, with Good Wear resistance, used for hard wood,processing original wood,aluminum section bar,brass rod and cast iron. |
| YG6X | ultra-fine grain size with cobalt 6%,with good wear resistance,Suitable for processing Chilled cast iron, heat-resistant alloy steel, and fine process of common cast iron |
| YG10X | ultra-fine grain WC+ 10% Cobalt, suitable for small diameter Micro drill ,vertical milling cutter, rotating file |
| YG8 | fine GrainWC+ 8% Cobalt Suitable for the roughening of cast iron and light alloys and also for the milling of cast iron and low-alloy steel. |
| YG15 | fine grain WC +15% Cobalt for mining tools, cold heading and punching dies |
Our Various Size List
Grinding
Blank

D

L

D

L

(mm)

Tol.(mm)

Tol.(+1mm)

(mm)

Tol.(mm)

Tol.(+3mm)

0.7

h6

330

1

+0.2

330

2

h6

330

2.2

+0.2

330

3

h6

330

2.7

+0.2

330

3.175

h6

330

3.2

+0.2

330

4

h6

330

3.7

+0.2

330

5

h6

330

4.2

+0.2

330

6.35

h6

330

4.7

+0.2

330

7

h6

330

5.2

+0.2

330

8

h6

330

5.7

+0.2

330

9

h6

330

6.2

+0.2

330

10

h6

330

6.7

+0.2

330

11

h6

330

7.2

+0.2

330

12

h6

330

7.7

+0.3

330

12.7

h6

330

8.2

+0.3

330

13

h6

330

8.7

+0.3

330

14

h6

330

9.2

+0.3

330

15

h6

330

9.7

+0.3

330

16

h6

330

10.2

+0.3

330

17

h6

330

10.7

+0.3

330

18

h6

330

11.2

+0.3

330

19

h6

330

11.7

+0.3

330

20

h6

330

12.2

+0.3

330

25

h6

330

14.3

+0.3

330

30

h6

330

16.2

+0.3

330
We manufactured and stocked unground and ground carbide rods for you. For more size information, please kindly email or call us.
Solid carbide rod type:

1. solid carbide rods
2. single central hole rods
3. double parallel hole rods
4. fixed Length carbide rod
5. Random Length Carbide rod
6. chamfered rods
7. other special customized rods
We can supply all kinds of dimensions solid carbide rods with fine&sub micron grain size. We specialized in tungsten carbide round bars with outstanding production line of solid carbide rod and coolant rod.
Our Solid carbide rod has good straightness, excellent hardness, and stable toughness.With high wear / corrosion resistance, suitable for the manufacturing of various kind of solid cemented carbide tools for the machining of heat-resistant alloy and Ti alloy,also suitable for the manufacturing of micro drills used for machining PCB.

-- Dimension: diameter from 3-25mm, length from 38-330mm;

-- with one coolant hole or two coolant holes or without coolant hole;
-- ground and unground;
Production Advantages

1. we using 100% WC and the raw matearils of CO.
2. High hardness HRA89-93 ,good bending strength TRS 2800-4200.N/mm2
3. Long probation,stamping.
4. Has good wear resitance.
5. Professional manufacturer for more than 10years experience.
6. With the HIP sintered technology,the structure of tungsten carbide is more uniform,more dense,the TRS can be raised more than 20%
7. We make tungsten carbide rods extruded or pressed.
8. Customization is acceped
Production Process:

Power mixing-Pressing-HIP sintering-Blank- Processing- Finished
Application:

Tungsten carbide rod grades are mostly fine and ultra fine grain with high performance. It's suitable for processing of non-ferrous metal, plastic materials, carbon fiber, chilled cast iron and heat-resistant alloy steel, high-temperature alloy steel, stainless steel, high manganese steel, etc. It can manufacture of drill bits, end mills, and reamers. Tungsten carbide bushing widely used in stamping tools and wear-resistant tools, etc.
Our packing and shipping

Based on Detail products, we use different Standard packing suitable overseas shipment.
For carbide rod packing as following
1. outsizde carton or plywood case
2. inner packing is plastic box or small carton with cotton or paper protection
3. Shipping:UPS,TNT,EMS,Fedex,DHL, shipment by sea, or as you request.